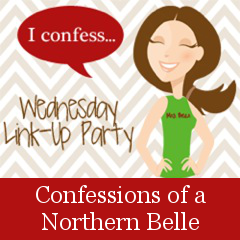 Today my post is brought to you by two lovely ladies that I am following: Lisette with
Northern Belle Diares
, and Catalyn with
Confessions of a Northern Belle
, they are having an "I confess... Wednesday Link-Up Party" and I am kind of nervous to confess things but I hope you enjoy it.
I confess
..... that I am loving blogging but I am kind of overwhelmed. I look at all of these talented bloggers and think I will never get there but really hope I can.
I confess....
that I secretly love watching the Bachelor even though some of the girls are really bother me sometimes but I just love all the drama!. I don't ever miss an episode.
I confess....
that I LOVE spending money, even when we don't have a lot of money to spend. For some reason I just have to spend money. This year we are trying to be really good about saving money and paying some things off but it is so hard for me to do so. Here's to hoping I can control myself!
I confess...
that I was so excited that my husband suggested we went out to eat dinner last night, I was trying to drop hints that I didn't want to cook dinner. Either he caught on to my hints or he just really wanted to eat out, either way I was so excited that I didn't have to cook dinner!
I confess...
that I have been having a hard time getting pregnant for a couple of years and really wish I had a baby of my own so for now I love everyone else's babies like they were my own!
I think that is all of the confessing I have in me for today. What do you confess? And remember to visit Lisette and Catalyn's blogs to link up! Thanks for reading!